The Port Credit Business Centre is home to a total of 24 offices of various sizes.

Ranging from 100 to 350 square feet (can be linked for bigger demands), each office in the Upper Level is carpeted and features dark wood trim with glass-panelled doors. Most offices in the Upper Level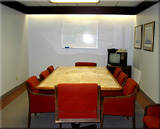 feature large, arched windows.
Boardroom and kitchen facilities, along with secretarial services (including phone answering services), are available to all tenants.
Cameras, located at strategic points throughout the Centre, ensure complete security. For added security the commercial/retail space on the Lower Concourse features heavy steel doors.
All offices, whether on the Upper Level or Lower Concourse, can be adapted to meet your specific requirements.